Last added places
Objects shown:
---
Moraine Lake
Banff National Park, Alberta, Canada
Unearthly beauty Moraine Lake is located in Alberta region on the Canadian territory of Banff National Park at an altitude of 1,880 meters. Moraine Lake is a glacial, as fed by mountain glaciers and in the second half of June reaches its fullness. It is during this period Moraine Lake is ...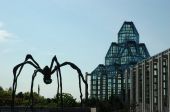 The National Gallery of Canada
380 Sussex Drive, Ottawa, Ontario K1N 9N4, Canada
The National Gallery of Canada is located in the capital city Ottawa and is one of Canada's premier art galleries. The Gallery was formed in 1880 by Canada's Governor General John Douglas Sutherland Campbell and since, it has changed its location several times. The unique ...