Moraine Lake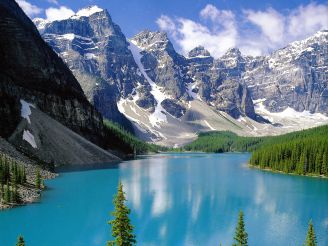 Unearthly beauty Moraine Lake is located in Alberta region on the Canadian territory of Banff National Park at an altitude of 1,880 meters. Moraine Lake is a glacial, as fed by mountain glaciers and in the second half of June reaches its fullness. It is during this period Moraine Lake is particularly beautiful. Ice quintile, which falls into lake, along with meltwater, absorbs all colors of visible spectrum except blue - blue is reflected. It makes the lake water play marvelous tints of blue and turquoise shades. Add to this beauty Canadian Peaks surrounding lake, whose steep slopes reach a height of 914 meters - and you can take to find yourself in paradise.
Fantastic beauty of the lake and the surrounding area of Banff National Park make this place one of the most popular in canadian tourist routes. Today, travel agencies offer a various excursions in this picturesque place: walking in the park, trips to the mountains, and, of course, boating on the lake. Unsafe walking alone in the park, as along the way you can meet animals living in the park: moose, mountain sheep and even black bears.
Probably will not be surprised by the fact that Lake Moraine is the most photographed place in Canada. One time it was a great place depicted on the reverse side of the Canadian banknotes of $ 20.
Discovered the lake in 1899 Walter Ulkoks who later said, that the half hour, during he was admiring the lake, were the happiest moments in his life. Today, the lake is considered one of the most beautiful lake in the world, and many Internet sources refer the lake to one of the natural wonders of the world.
If you want to enjoy the beauty of Lake Moraine, this would be easy. The lake is in 14 km from the resort Lake Louise in Banff National Park. From the village excursions ride to the Lake Moraine. Travel time should not exceed 15 minutes.  The cost of living is low. If you want to live in close proximity to the lake, hotels work on shore lake.